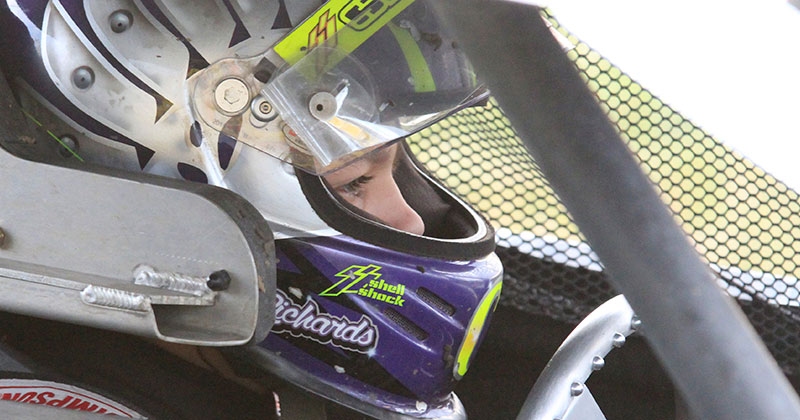 Cade Richards' life has revolved around long weekend car trips and dirt track racing.
Some of his first memories came from watching his father, Matt Richards, compete on the track.
"He's gone to the races (since) the week after he was born," Matt said.
At 14, two years before he could even get a driver's license in Nebraska, Cade obtained an International Motor Contest Association license and found himself competing on dirt tracks against veteran drivers in their 30s and 40s.
His first season should be deemed a success, after he was recently named the IMCA Sportmod rookie of the year, the youngest driver to win the award.
"It's so exciting and so much fun just watching him, just knowing he's my son and we did all our own stuff," Matt said. "It's hard to describe, but you just feel really good and really proud about it."
Cade will receive his honor Saturday during the IMCA National Awards Banquet at The Cornhusker Marriott.
Matt isn't surprised by his son's quick rise in the sport. After all, at the age of 4, Cade began racing go-karts competitively throughout the Midwest.
"I'd go to the races when I was young watching my dad; it kind of went from there and I wanted to keep progressing with it to get where I am now," Cade said.
By 10, Cade's father learned about a course in Atchison, Kansas, where his son could practice racing modified race cars, similar to those he drives now.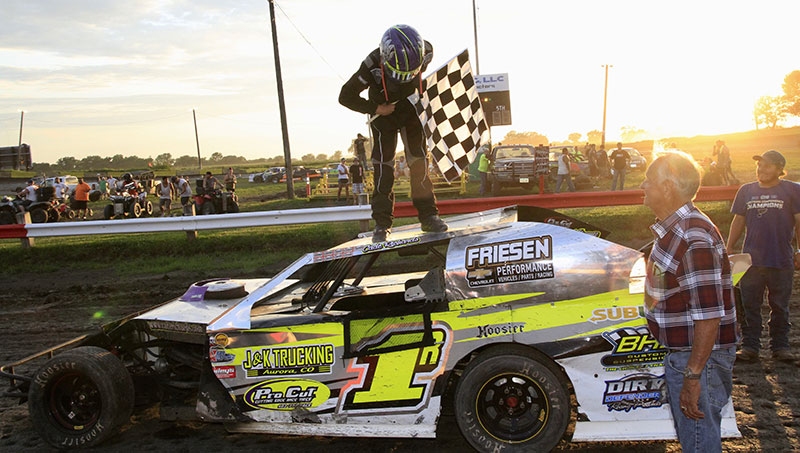 Cade celebrates after a win last summer. The 14-year-old Lincoln East High School freshman was recently named the IMCA SportMod Rookie of the Year.
He and his dad would make the six-hour round trip to race each weekend. With each race, his passion for the sport seemed to grow.
"You have to travel quite a bit and get a lot of seat time," Matt said. "The more laps you can do, the better you can get at it."
In his first season, Cade earned 50 top-10 finishes in 55 starts, including 32 top-five finishes, and he took the checkered flag five times.
In order to qualify for the year-end award, Cade needed to race at least 55 times in a season that began in April and ran through September. That added up to thousands of miles driving from track to track.
"It's an everyday, every-night deal, kind of like another full-time job," Matt said.
That doesn't mean racing takes precedence over Cade's schoolwork, though. The freshman at Lincoln East High School has been on the honor roll every semester since middle school and nearly has a 4.0 GPA this year.
Typically, Monday through Friday is relatively straightforward. Cade comes home from school each day and knocks out his homework. If there's time, his mom will drive him to his father's shop so the two can work on his race car.
"Homework comes first," he said. "If there's time I can go help him with the car. The (school) breaks are the easy part where we can get things close to done."
His favorite subject at school is math. The numbers just come easy to him.
"I'm just good at it," he said.
He said many of his friends from school understand racing or have parents who work on cars, so they were impressed with Cade's summer behind the wheel.
"Most of them thought the award was pretty cool," he said.
Luckily, racing hasn't interfered too much with his social life. Sometimes he can't hang out with his friends during the weekend, but he makes up for missed time during the week when he has free time.
"It's all about balance," he said. "It doesn't really bother my friendships."
In preparation for the race season, father and son would spend hours preparing a car they built to make sure it was ready.
"Last year, we started from scratch with a new car and built it up ourselves. It took from Thanksgiving to March to get everything ready," Cade said.
The process will be similar this year as they prepare for the upcoming season. Matt and Cade planned to take the car apart again over Thanksgiving break.
"This year, since we already know what we're doing, we'll take apart everything and replace what we need to," Cade said.
While everything from preparing the car in the offseason to actually racing can turn into a grind at times, both father and son have enjoyed every minute of it.
"It'll be worth it in the end because we enjoy working on it together," Matt said.
Matt's background in racing largely parallels his son's. From a young age, he said he remembers being around the track and watching races. At the age of 13, he was competing behind the wheel.
The knowledge passed down from father to son on everything from engine-and-body work to driving has made a difference in his development as a driver, Cade said.
"He plays a big role, I look up to him quite a bit," he said. "He's the reason I'm in the sport and I'm so thankful to have an amazing dad that allows me to learn from him."
His run to rookie of the year included a broken hand he suffered while driving with just six weeks left in the season.
The injury didn't seem to have any effect on Cade's racing, though, thanks to a cast that was formed specifically to allow him to grip the steering wheel.
Cade managed to finish in the top five in seven of his final nine races to earn the much-needed points to secure the award.
"We got so many wins at the end because I got so much experience after competing for 50-plus nights," he said.
He's dreading the winter — and itching to be back in the driver's seat for his second season.
"It's pretty rewarding that I'm doing this good against the competition I'm racing against," he said.
NOTES:
• Point standings became official Monday, October 28. Cade finished ranked 16th in overall IMCA Northern SportMod national points.
• All national, regional, state, track and special series champions and rookie-of-the-year award winners will be honored at the national IMCA awards banquet on November 30 at the Marriott Cornhusker Hotel in Lincoln.